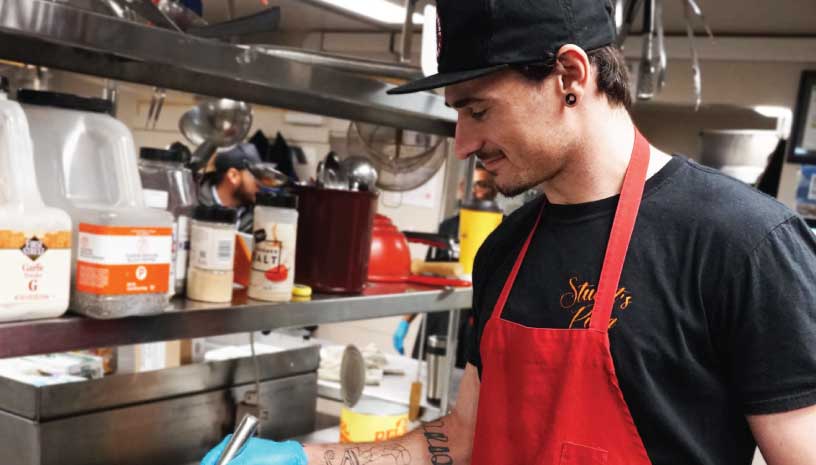 May 10, 2023
Finding Hope and Purpose at Modesto Gospel Mission
This week, we are excited to introduce you to Tyler! In his time with us, we have seen tremendous growth and couldn't be prouder of the man of God he is blossoming into. Check out his testimony below!
"I was raised for a short period of time by both of my parents, whom both struggled with their own addictions. Our family separated when I was young after my father went to prison and we lost our home. Not too long after that, my brother passed away. My mother lost her last-born son, which sent her further into her addiction and unfortunately out of our life. This led us into a very unstable childhood that would face us with homelessness. I had a very rough childhood. Many nights we were uncertain of where we would be laying our heads at night.
At the age of 19, I was introduced to meth by a relative. It wasn't long before I became addicted, falling into a downward spiral that would last for the next 11 years. This lifestyle led me to incarceration and a very sad way of living. I lost all self-will and God's will. My use of methamphetamines led me to become suicidal. I was too scared to live but too scared to die. I found myself deep in a mental fog that was hard to shake. Drugs really made me lost and alone.
Then I came to the Modesto Gospel Mission. Since coming here and joining the New Life Program I have gained structure. I have been blessed to find my identity through Christ. I finally have a sense of peace and joy. My mental fog has cleared, and the burden of addiction has been lifted by Jesus Christ. I have real genuine relationships with friends, family, and most importantly God. I am a part of a healthy church community and spend my time volunteering with the youth, men, and outreach ministries. I am currently serving God through a paid internship with Workforce Development here at the Mission. In doing this I am a part of the process that feeds over 600 meals a day for our homeless community. I am very grateful and blessed to be a part of the Mission. Now that I am here, I can see a future for myself. A future that is built on a foundation based on the will of God. A future that will bless me with a family of my own. I will break generational curses and it will be done in Jesus' name."
- Tyler